2011 Broadway revival at the Barrymore Theatre, New York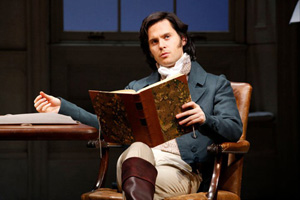 Writer
Tom Stoppard
Director
David Leveaux
Synopsis
Arcadia, Tom Stoppard's "dazzling masterpiece" (The Daily Telegraph), returned to New York for a limited engagement in an acclaimed production directed by five-time Tony Award nominee David Leveaux.
April 1809, an elegant English country estate… Thomasina, a gifted pupil, proposes a startling theory well beyond her comprehension. All around her, the adults, including her tutor Septimus, are preoccupied with secret desires, illicit passions and professional rivalries. Two hundred years later, academic adversaries Hannah and Bernard are piecing together puzzling clues, curiously recalling those events of 1809 in their quest for an elusive truth.
Arcadia featured an exquisite cast including Margaret Colin, Billy Crudup, Raúl Esparza, Glenn Fleshler, Grace Gummer, Edward James Hyland, Byron Jennings, Bel Powley, Tom Riley, Noah Robbins, David Turner and Lia Williams.
Tom Riley's Role
Septimus Hodge - nominated Outstanding Featured Actor In A Play at the 2011 Drama Desk Awards
...And Mr. Riley (like Ms. Williams and Ms. Powley, from the British stage) is superb as the bright young man who is not Lord Byron (nor was he meant to be) but who recognizes — and bows before — real genius. New York Times.
Read more reviews
Dates
Previews from Feb 26th
Opening night 17th March
Closed 19th June 2011
Running time - 2 hours and 45 minutes, including one 15 minute interval
Full ticketing details here.
Links
Arcadia Broadway Official Website
(link now dead)
Sonia Friedman Productions
Internet Broadway Database
Arcadia images
Playbill Vault
Behind The Curtain
Playtext
Twitter
Facebook