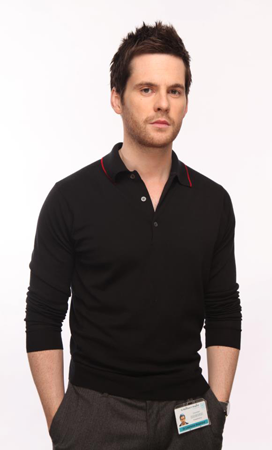 Genre
ITV medical drama series from Mammoth Screen
Writer
Peter Bowker
Director
Series 1 - Paul McGuigan & David Moore
Series 2 - Damon Thomas & Brian Kelly
Producer
Jennie Scanlon & David Moore (series 2)
Synopsis
Monroe is a brilliant and unusual neurosurgeon. A flawed genius who never lets anyone forget his flaws or his genius. Each episode features one compelling story of the week about life or death situations.
In series 1 stands Monroe, his trainees, his anaesthetist and his poker school - and his female colleague, heart surgeon, Jenny Bremner, who has contempt for his cockiness.
The series tells heightened emotional stories and is shot through with dark humour, portraying the pressures and pleasures of high-end surgery in a modern urban hospital.
Series 2 finds Monroe (James Nesbitt) and the medical staff at St Matthew's hospital 18 months on from series one. Still the wise cracking, irreverent and brilliant neurosurgeon he always was, Monroe is about to face a number of changes he could really do without, with new challenges coming from ex-wife Anna (Susan Lynch) and son Nick (Perry Millward). Meanwhile Bremner (Sarah Parish) and Shepherd (Tom Riley) are still a couple and dealing with an unplanned development, which threatens the future of their relationship and their professional lives. (via ITV)
Tom's role
Anaesthetist Laurence Shepherd
Monroe's anaesthetist Shepherd is also his best friend. His hapless love life provided a constant source of amusement for Monroe in series 1. In series 2 Shepherd is also Bremner's partner and first-time father to Louis, a situation that is set to put him under increasing pressure as he begins to doubt his relationship with Bremner.
Filming dates
Series 2 - Leeds 8th Jan until 23rd March 2012
Series 1 - Leeds from 26 September until 17 December 2010
Location details
Former Leeds High School for Girls recreated as the principal setting of St Matthew's Hospital. It took only eight weeks to convert into a working hospital, turning the library into a ward and creating a high-tech operating theatre.
Former Leeds Girls Grammar School (primary location)
Leeds General Infirmary
University Of Leeds
Headingley
Leeds City Centre
Links
Official ITV Monroe website
IMDb
Monroe Facebook Page
Monroe images
Mammoth Screen
Wikipedia page
Screen Yorkshire
Monroe photography by Steve Brown Photo
Series soundtrack composer
Series 1 links
Broadcast dates
Series 1
Series 1 press pack & episode guides
Ep 1 - 10th March 2011
Ep 2 - 17th March 2011
Ep 3 - 24th March 2011
Ep 4 - 31st March 2011
Ep 5 - 07th April 2011
Ep 6 - 14th April 2011

Broadcast dates
Series 2
Series 2 press pack & episode guides
Ep 1- 1st October 2012
Ep 2- 8th October 2012
Ep 3- 15th October 2012
Ep 4- 22th October 2012
Ep 5- 29th October 2012
Ep 6- 5th November 2012
Buy
Monroe series 1 DVD
Monroe series 1 iTunes UK
Monroe series 1 DVD US
Monroe series 2 DVD
Monroe series 2 iTunes UK
Series 2 teaser trailer
Series 2 Episode 1 trailer